News & Updates
Road Wisdom: Geocaching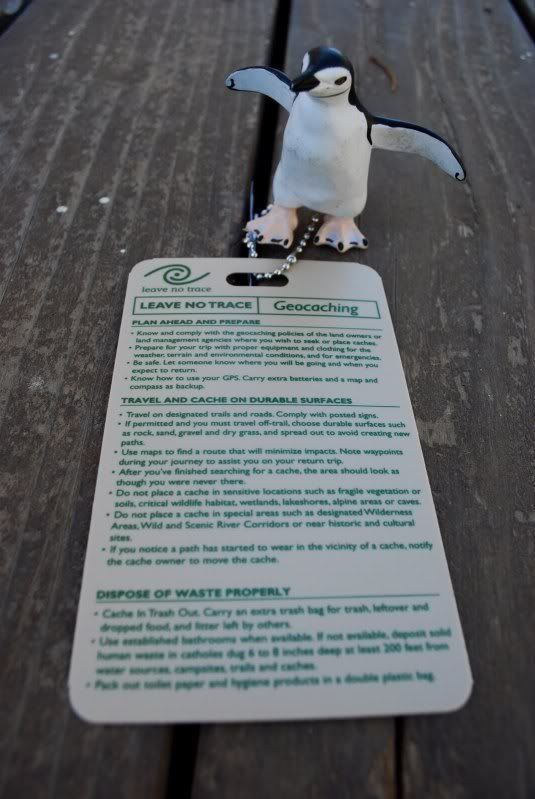 According to www.geocaching.com, "Geocaching is a high-tech treasure hunting game played throughout the world by adventure seekers equipped with GPS devices. The basic idea is to locate hidden containers, called geocaches, outdoors and then share your experiences online. Geocaching is enjoyed by people from all age groups, with a strong sense of community and support for the environment."
Currently there are over 1 million registered caches worldwide! As we travel the country, teaching the skills and ethics of Leave No Trace, we encounter many different schools of thought on this up-and-coming activity, which is celebrating its 10th anniversary this month.
Some people feel strongly that geocaching bridges the gap for people that enjoy technological activities with being on an outdoor adventure in a natural setting. Other people feel that some geocachers miss a majority of the outdoor experience because they are so focused on the technology piece that they are driven into the wilderness only to put all of their energy into finding the coordinates. Yet another group feels that geocaching brings individuals and families together by getting them out of their living rooms and into the great outdoors. What is your opinion?
Regardless of each person's motive to join the geocache movement, Leave No Trace has developed a reference hang tag (available in our online store) to promote responsible recreation practices while geocaching. Here are some points to consider:
Plan properly for your geocaching outing by having the items or equipment you'll need to safely enjoy your adventure. Also, if placing a cache, make sure it's legal in your area.
Be conscious of where caches are placed (choose durable surfaces) and think about how traveling to and from a cache can cause trampling, erosion, etc.
Have the necessary knowledge/equipment to deal with trash, litter and human waste.
Consider the impacts of geocaching to both plants and animals.
Be mindful of other visitors who may also be enjoying the same areas as you.
If you would like to weigh in on your opinion of geocaching, email [email protected] and we will post comments on an upcoming blog!

Happy Geocaching,
Kate and Tracy
Let's protect and enjoy our natural world together
Get the latest in Leave No Trace eNews in your inbox so you can stay informed and involved.